Case Studies
Cleeve Park School, Sidcup
Cleeve Park School is a secondary school in Sidcup, Kent.  Following a detailed tendering process, Waverley were awarded the task of providing the students at the school with a larger outside covered area in the school's main courtyard.
The requirement
The school management wanted to enhance the facilities for students at break times, by providing better shelter. The central courtyard acts as the main thoroughfare between lessons for both students and teachers and is the central gathering point for students at break times to eat lunch.
The existing canopy only covered two thirds of the courtyard area which meant that, during wet weather, students still had to walk through the rain to enter the main school building at one end. The single thickness fibreglass roof sheets had started leaking and had become mildewed, and the gutters leaked with water run-off forming puddles underneath the existing canopy.
Design challenges & solutions
Waverley's surveyor along with the lead installer visited site to fully understand the school's requirements and expectations. They quickly identified a potential challenge with the bursar's original wish for the canopy to butt up to the wall of the building down one side: the main sewage drain ran directly below where the canopy posts would need to be positioned.  We completed a thorough survey of the area and supplied a CAD drawing detailing the exact positioning of the canopy support posts, to ensure the existing drains were not damaged.
Another challenge was the tight installation schedule for the project. The one week half term period was not sufficient to remove the existing structure and install the new canopy, so an installation schedule was agreed with the school and Waverley worked for an additional week with the school fully operational. Students were protected as Waverley erected safety fencing to half of the courtyard area at a time, so that the school could still use the area to access different classrooms around the school.
The outcome
A free-standing apex canopy was built with a central 'goalpost frame' supported on columns spaced at every 4m. On either side of this goalpost frame, a 'lean-to' canopy roof with a 5m projection was built with posts supporting the outside edge gutters spaced at approx. 4m intervals.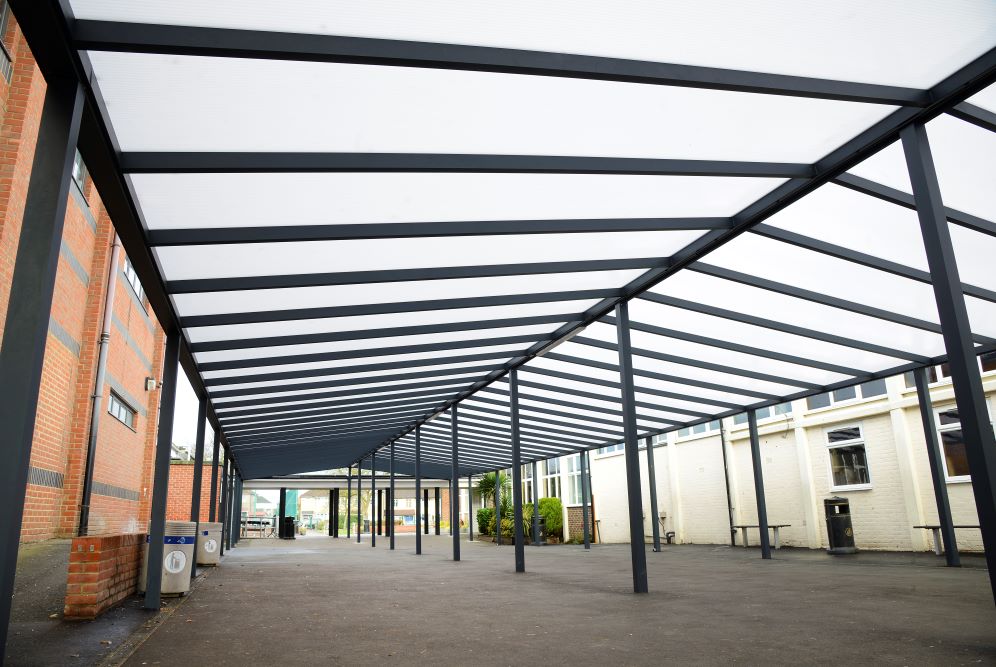 The rainwater downpipes were concealed inside the posts so that water is dispersed into a continuous line of ACO drainage installed adjacent to the posts.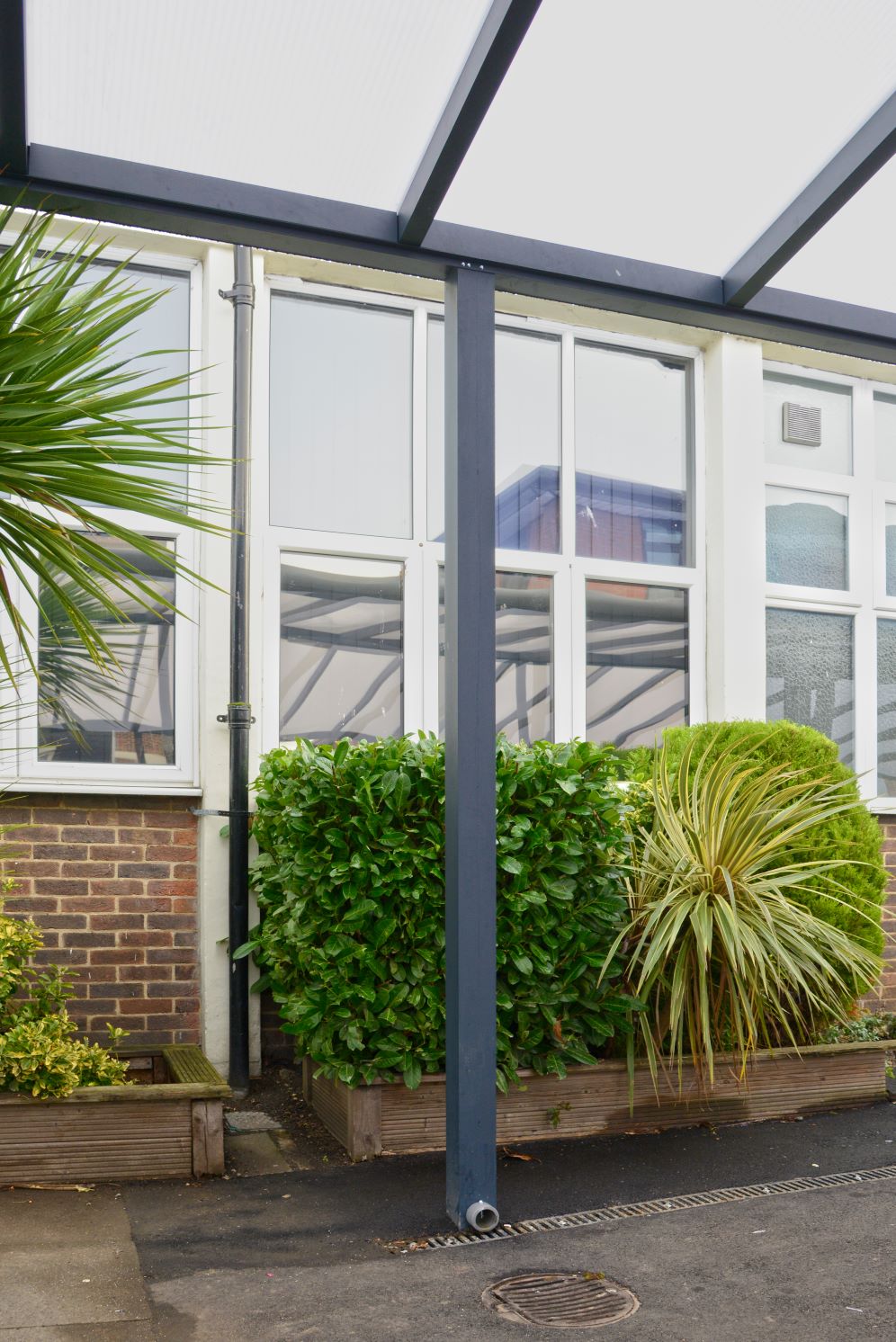 The polycarbonate roof panels are 16mm thick to give long-lasting protection from UV rays, rain and snow. The result is an incredibly light and airy yet robust canopy that gives students 550m2 of outside space that can be used all year round.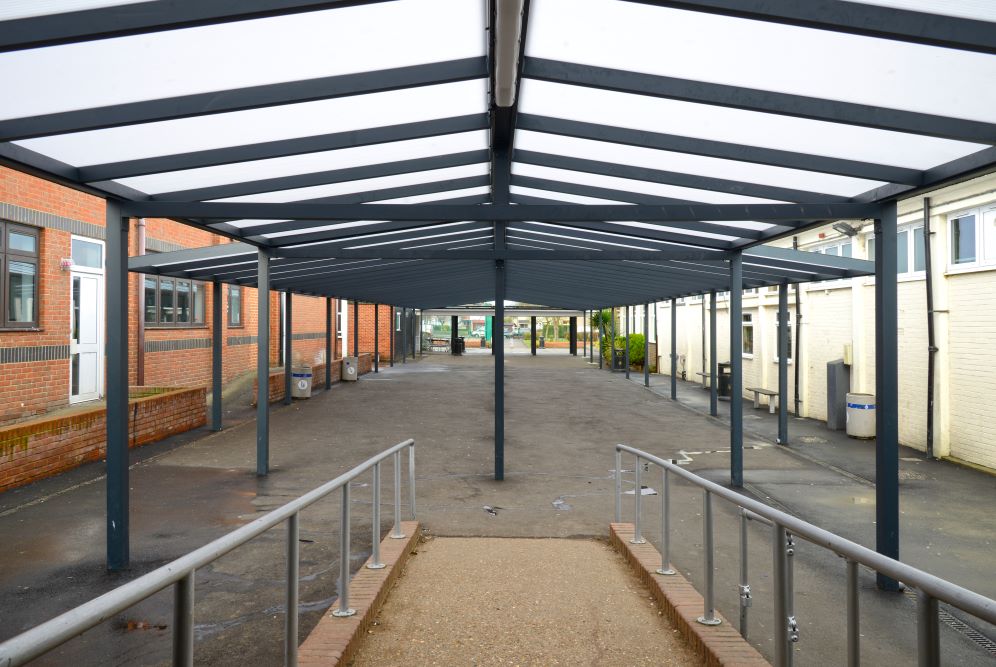 A team of six installers worked on the project and the canopy we have installed is 55m in length and 10m wide, providing a useful covered space for students at break time.