We're experts
We are experts in the science of improving the performance and aesthetics of both internal and external spaces and apply this knowledge to help our clients create exceptional environments.
Family owned and managed, we are committed to remaining independent and continuing to develop a strong, ethical business that genuinely cares about our customers, team and the environment.
We keep our promises
We always keep our promises and take pride in developing long-lasting partnerships with our clients, backed up by more than 42 years of industry experience.
We relish challenging projects that require bespoke solutions – our team love nothing more than using their creativity to solve issues to deliver enhanced environments.
We manufacture
We have our own UK based manufacturing facilities, enabling us to consistently deliver high-quality products, and have established a global supply chain to ensure we have the right solutions for any challenge.
We take the decision to develop the Waverley Exteriors brand. This enables us to expand our product range and improves clarity around our product ranges.
Our canopy division relocates to a new unit in Farnborough. This facility gives us more space for manufacture, assembly and storage, enabling us to supply canopies on short lead times: a great move forward!
Waverley are appointed official dealers for Barrisol Stretch Ceilings in London and the South East. Our offering to specifiers, fitout and main contractors is further expanded with the addition of decorative screening products to the range.
Our 40th anniversary year and we concentrate our focus on London and the Home Counties with our Northern sales rep relocating to Surrey. John James becomes responsible for the canopy side of the business.
We move our manufacturing facility to a separate unit in Luton with more space and improved equipment, strengthening our position as manufacturers of the ShadeTech brand, and ensuring good lead times. Waverley becomes the UK's distributor for the Draper brand from the USA, manufacturing in the UK under licence.
The company continues to grow both in terms of sales and staff. As the flow of enquiries from the Midlands and North increases, Waverley increases their reach with the appointment of sales staff in Cheshire. A dedicated team to service the high-end residential market is added as our knowledge of motorised blinds is sought after in the residential AV and home automation sector.
Waverley secures the window blinds package for the prestigious Centre Point project in London, cementing our position at the forefront of the industry in the capital.
We have a complete refurb and refit of the offices at Farnham, encouraging greater communication and collaboration between teams, and with staff working all together on one floor.
A large investment in product literature, samples and a website positions the ShadeTech brand as one of the better known solar shading brands in the commercial and education sector.
Waverley creates a RIBA approved CPD presentation to help specifiers discover the important role that correctly specified window blinds play in creating environments that benefit the occupant and the environment.
Waverley adds external canopies to its product portfolio after requests from its customers in the education sector. The WeatherSpan brand is born.
Waverley continues to grow through the recession thanks to a loyal customer base. Continued interest from architects and specifiers leads Waverley to realign its product portfolio and the ShadeTech brand is first specified on projects.
A decision is made to buy recently vacated premises across the street from our premises in Farnham. Rowan House is approximately 8 times bigger than the existing accommodation and allows the manufacturing operation some much-needed room to expand.
Waverley moves to new, larger premises in Farnham, Surrey. To improve lead times and give more flexibility, we invest in our first roller blind production equipment which is quickly followed by vertical blind production. Waverley is now a manufacturer, giving our growing sales and project management team greater control over the entire process.
The company is bought by the current owners. Passionate about customer service, we make the bold decision to focus solely on the commercial and education sectors. This enables staff to provide better service levels, which are immediately rewarded by a dramatic increase in sales to main contractors and schools.
The founding owner passes ownership on to his brother and the business continues its slow but steady growth. Waverley becomes the supplier and installer of curtain tracks for the John Lewis Partnership. Sales to the commercial sector and schools begin to flourish.
Waverley moves to the 'Old Fire Station' in Witley, near Godalming, to give the company room to grow. The small workshop area provides enough space for curtain and cubicle track bending equipment and Waverley becomes a market leader in Silent Gliss cubicle track fabrication and installation.
Like many businesses, Waverley had humble beginnings. The year was 1979, the location was a garage attached to a house in Godalming, Surrey, in the council borough of Waverley (hence the name). A simple, buy-sell operation including installation is started, serving domestic and commercial clients in the local area.
Building Trust
We are a friendly, knowledgeable and experienced team who you can rely on to honour our commitments and keep our promises, building trust and long-lasting partnerships.
Pushing Boundaries
We create inventive solutions, pushing boundaries to maximise the impact our products make to your environment, and to ensure our own processes and people are continually developed to deliver customer service excellence.
Taking Responsibility
Taking responsibility for everything we do is core to our principles – for our work, our people and the environment – empowering our teams to resolve any issues.
Pursuing Perfection
We try hard to get everything right first time, always pursuing perfection, and our attention to details earns our exemplary reputation.
Daniel James
Managing Director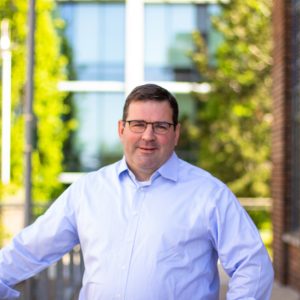 Daniel James
Managing Director
Daniel has a clear vision for Waverley, with a strong focus on strategy and culture.  He believes that sports teams are better run than most businesses and is working hard to address this at Waverley, regularly drawing on characteristics and tactics observed in the best teams around! 
Bruce James
Director

Bruce James
Director
Bruce is responsible for Operations, including overseeing our manufacturing facility at Luton and management of installation staff and sub-contractors.  Bruce also project manages many of our prime residential projects.
John James
Director

John James
Director
Having previously looked after sales to schools, and then marketing, John is now responsible for Canopies at Waverley.  He is promoting and developing this side of the business, overseeing manufacture at a new unit in Farnborough.
Michael Denyer
Exterior Solutions Specialist

Michael Denyer
Exterior Solutions Specialist
With nearly 10 years of project management experience, Michael manages the day-to-day sales and project management of our exteriors division, working alongside clients to provide shade and shelter across a range of sectors.
Frazer James
Pre-Construction Director

Frazer James
Business Development Manager
Frazer officially joined Waverley 5 years ago as an estimator - having spent numerous hours in the factory during school holidays for 3 years prior, getting to know the ins and outs of blinds.  Over the last 2 years, Frazer has taken on a project sales role working on a variety of projects across the country.  He enjoys getting into the detail and ensuring everything is in order prior to handing over to a project manager for delivery.
Ben Vowles
Head of Specification

Ben Vowles
Specification Manager
Ben has over 15 years' experience in the shading industry and is our Specification Manager for London architects and projects.  He joined us early in 2019 and enjoys the challenge of helping specifiers with bespoke design solutions on projects across all sectors.
Fern James
Project Co-ordinator

Fern James
Project Co-ordinator
Fern is the project co-ordinator for all major projects, working closely with BDMs and project managers, ensuring quotations and documents are back with our clients on time.
Gillian Hendry
Installation Scheduler

Gillian Hendry
Installation Scheduler
Gill joined us in 2020.  She is responsible for booking all our installations and ensuring sites have the relevant paperwork on time.
Mandy Biggs
Sales & Specification Support

Mandy Biggs
Sales & Specification Support
Mandy joined us in 2009.  Having long been interested in architecture and interior design, she enjoys working with our prime residential and contract sales teams and is responsible for organising CPDs for architects and interior designers.
Emma Burt
Finance Manager

Emma Burt
Emma joined us at the beginning of 2019, taking over the senior accounts role.  She has helped us to modernise and streamline our accounts systems.  She cultivates a great team spirit in the finance department!
Sarah Keefe
Sales Ledger

Sarah Keefe
Sarah is one of our long-standing staff members, having been with us for 13 years.  She has worked in a number of different accounts and finance roles for around 25 years, bringing valuable experience to the accounts team.
Lydia James
Purchase Ledger

Lydia James
Lydia is responsible for maintaining the purchase ledger and ensuring imports are taken care of. She has an eye for detail and is always keen to improve.
Rachel Reynolds
Purchasing Assistant

Rachel Reynolds
Rachel joined us in 2011.  Her knowledge of the intricacies of blinds and curtains is invaluable for her role in placing and checking orders with suppliers.
Deborah Cooper
Finance Admin

Deborah Cooper
Finance Admin
Debs joined us this year and is responsible for invoicing to customers and assisting with the purchase ledger.
David Macgregor
Business Resource & Process Manager

David Macgregor
IT & Systems Manager
David is responsible for the continuous improvement and modernisation of our IT systems and processes, ensuring our in-house technology is as efficient as possible.
Richard Webb
Specification Manager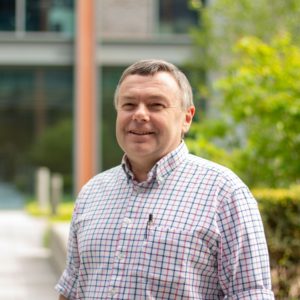 Richard Webb
Specification Manager
Richard is our Specification Manager for architect practices and projects outside London.  He has many years of experience in the solar shading industry and is well-versed in all things technical.
Graham James
Founder

Graham James
Founder
Graham purchased the company in 2000 and has overseen steady growth since. He is no longer involved in the day-to-day management of the company but remains passionate about its success.
Accreditations
Waverley has many accreditations, all of which help us to become a leader in the industry. You can rest assured we have the qualifications needed to help make your project a success.
We have ISO certification for both our head office at Farnham and also our manufacturing facility at Luton.  Therefore in each download below for ISO you will find certificates for both locations.
Click below to view/download our accreditations.
Testimonials
Premises Manager
Thorney Island Community School
Very happy with the service we received. The installation was quick and incredibly tidy.
Rob Anthony - Premises Manager
Downlands Community School
We needed to expand the number of common areas for students to spend their break time in. The canopy installed by Waverley has given us a great sheltered outdoor space which can be used all year round. The planning stage was handled professionally, and we were given very comprehensive drawings to help us imagine the project. The finished product has also modernised a previously outdated elevation of the school, blending it in with more recent site expansions.
Kevin Rochetser - Estates Manager
Brune Park School
I thoroughly recommend Waverley for any canopy installations. They erected a large canopy at Brune Park School with very short notice, working alongside a ground contractor with minimal fuss. The product has been received very well by our students, providing them with a sheltered area used for lunches and outside lessons, and we are currently looking at a second area of the school. Should we go ahead, we would have no reservations in using Waverley again.